Award-Winning SBA Lender
When you're looking to build or expand your business, our team can help you through the process from SBA loans to traditional business financing. Discover an unparalleled client experience when you contact our 100% locally owned and managed team located in the Heart of the Fox Valley.
Contact us today for a personalized solution by sending a direct email or calling.
(920) 766-4674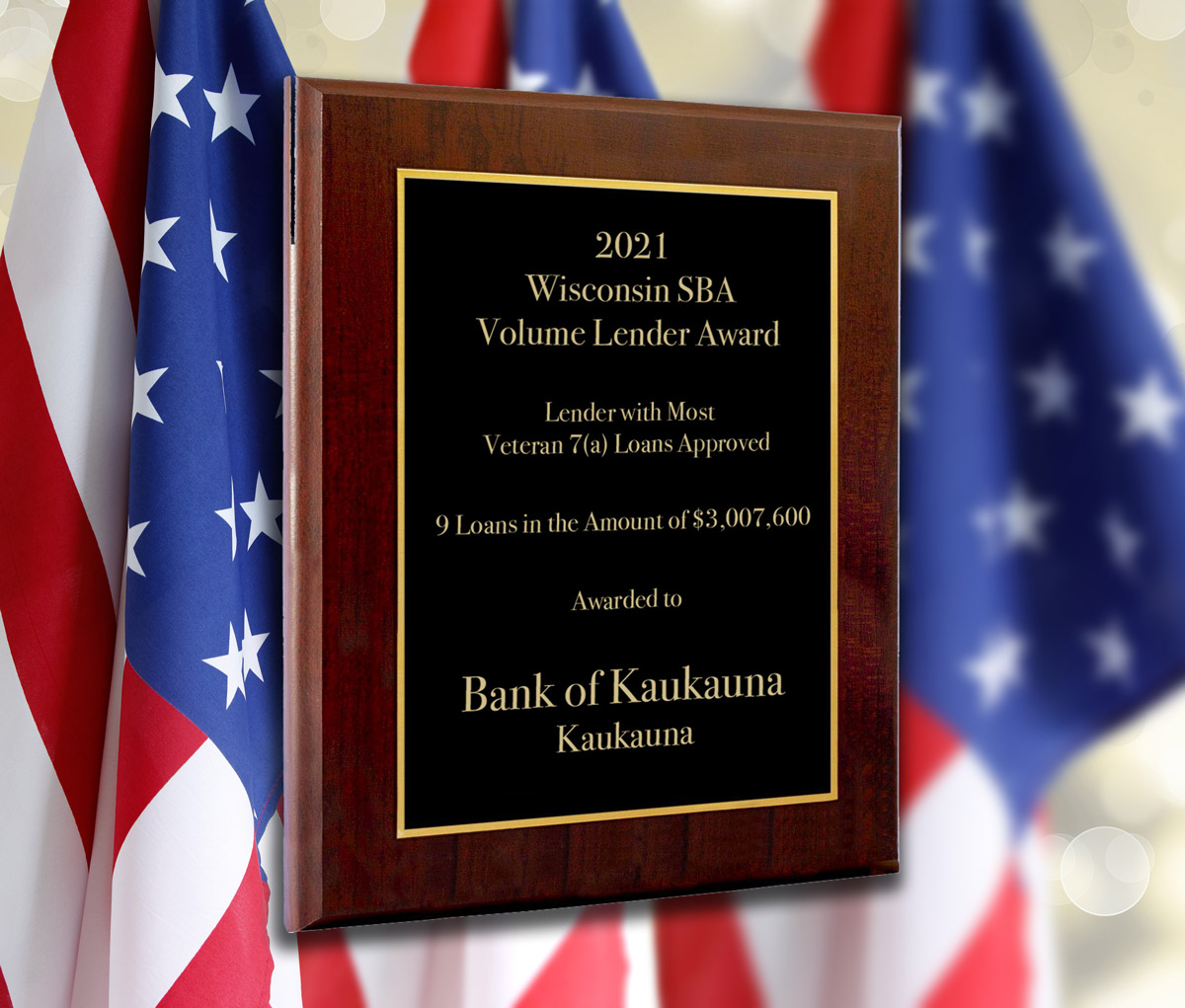 SBA Lender Options
One option for business owners is an SBA loan. You get access to an expert in SBA lending and get your questions answered on the spot. SBA provides a great opportunity for businesses to start and grow with various programs. By partnering with the SBA and their bank guarantee programs and 504 Bond programs, the Bank of Kaukauna can help businesses grow and preserve cash position and cash flow.
2021 #1 Wisconsin SBA Lender for most loans approved for bank asset size $100 million – $200 million.
2021 #1 Wisconsin SBA Lender for most Veteran 7(a) loans approved.
Contact us today for a personalized solution by sending a direct email or calling (920) 766-4674.
The sba.gov website gives a Quick Overview of SBA Loan Guaranty Programs
SBA 7A loans and lines of credit offer a great opportunity for business growth through mergers and acquisitions, equipment or building expansion, and working capital funding. The 7A programs allow for lower down payments, financing project soft costs and longer terms and amortizations to preserve cash flow and allow for investment in growth. SBA 7A can also be utilized for refinancing debt in certain circumstances and free up cash flow to keep a business on the right track.
At Bank of Kaukauna, we support the business growth initiatives of our customers by offering the full SBA menu of 7A products.
For smaller purchases and working capital needs, the SBA Express program allows for a streamlined and easier process for funding and with lower fees in some cases. While the bank guarantee is less, the process is easier and suited to loans or lines of credit under $350,000.
The Bank of Kaukauna is a participant in the SBA Export program, allowing us to support those business in the export business, which has unique financing needs. SBA provides higher level guarantees to banks so we can help you build your export business.
The SBA 504 bond program promotes long term, fixed rate financing for major fixed asseets (from equipment to Real Estate facilities) that promote growth and job creation. This program allows for less cash injection and longer term amortizations that traditional financing. The 504 program provides two facilities, one bank and one 504 bond. The bond note can be a fixed rate for 10-25 years depending on the purpose and collateral. Rates are very competitive and locking in for 25 years on a building purchase or expansion is very attractive. We partner with the WBD, Inc to deliver the 504 product and to learn more about 504 and see the current bond rates, visit their site at www.wbd.org.
Traditional Business Financing
Bank of Kaukauna offers competitive rates and terms, delivered in a customer friendly process only a Community Bank can offer. We offer commercial real estate loans across Wisconsin for investment or owner occupied purposes. Bank of Kaukauna also is a skilled commercial construction lender and can provide a great experience in the area of new construction. Contact our team to discuss your real estate investment, and competitive rates and terms.
A line of credit can be a key tool in managing growth and cash flow and the Bank of Kaukauna can meet that need with regular working capital lines to manage inventory and accounts receivable. We've helped businesses address the following situations with a business line of credit.
Short term funding for operational expenses such as inventory or payroll
Take advantage of a supplier's limited-time offer, bulk discount on materials
Cash flow during seasonal slowdowns
Build business credit
Bank of Kaukauna provides fixed rate or floating rate financing for the purchase or refinance of fixed assets, such as machinery, vehicles or other equipment assest. Our credit process is local and streamlined, with all aspects of credit handled in our single location.
Get secure and reliable payment processing tools through our merchant services. You will be able to better manage your cash flow from the get-go.
"Because we are such a small company, and we don't have $100 grand laying around. To be able to start up a project we needed to find outside help and the bank that hoped on with that was the Bank of Kaukauna. . . . One of the other things that we get as a I think an inherent service at the Bank of Kaukuana is their willingness to work through your situations."
– Justin Kuehl
Factotum Fabricator
factotumbuilds.com
Play Video
"In the beginning. I believe that John Hendrickson and the whole staff at the Bank of Kaukauna really bent over backwards for us to make that first loan happen. . . . It's truly an environment when you walk in that place, when everybody there knows your name and asks how your day is going. Everything about the bank has just been positive. Everything."
– Derek Van Deurzen
Verkuilen-Van Deurzen Family Funeral Home
verkuilenfh.com
Play Video
"I felt a personal relationship working with the Bank of Kaukauna. When I go in there, I feel like they get excited with what you want as your business grows. I really feel like they have a great personal touch. I brought my business to them . . . and I feel like they really go above and beyond to help their customers."
– Nick Leary
North East Wisconsin Welding & Fabrication
newwelding.com
Play Video
Awards and Recognition
The Bank of Kaukauna values our community, our customers and is committed to providing quality service with the best overall value in banking services. There are a lot of great competitors, and we feel honored to be recognized in the community and within the industry.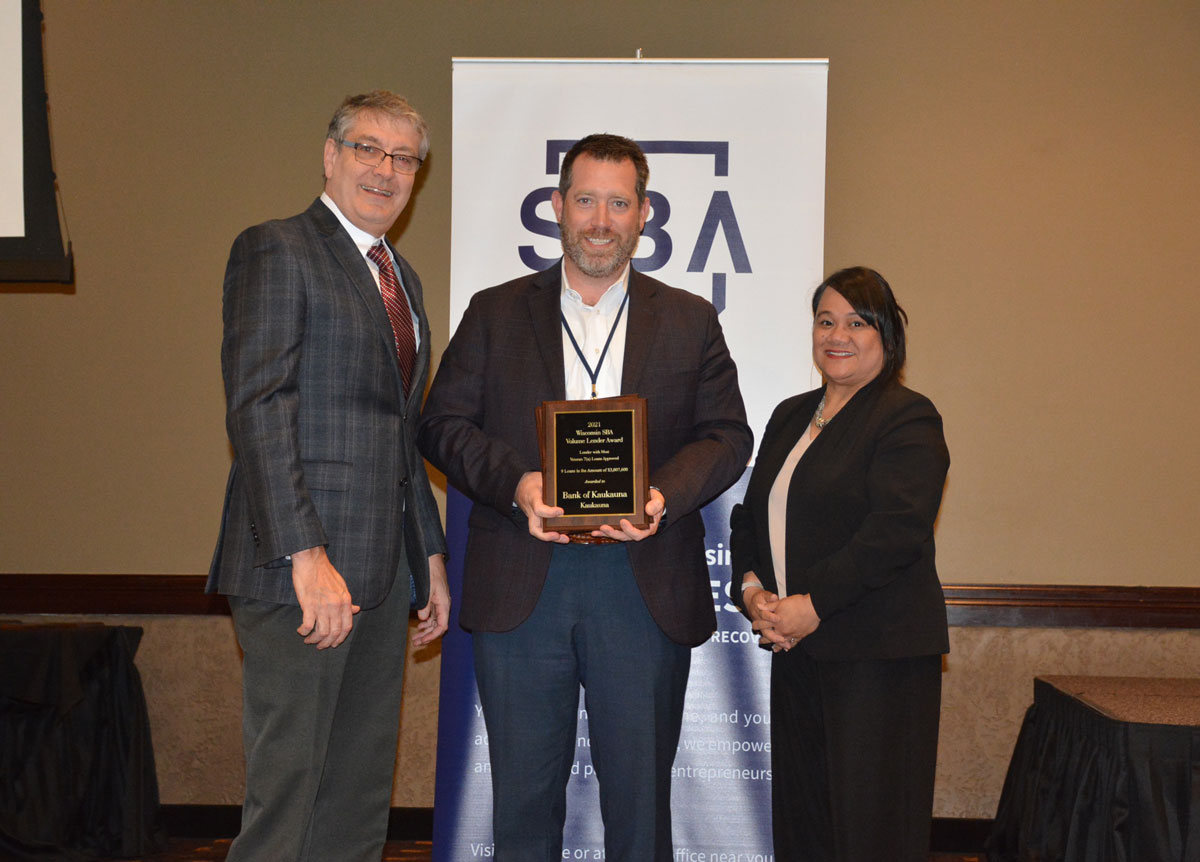 #1 Wisconsin SBA Lender
For most loans approved with bank asset size $100 million - $200 million
#1 Wisconsin SBA Lender
For most Veteran 7(a) loans approve
Business Banking
The Bank of Kaukauna
Business Banking Services
Commercial Real Estate Loans
Business Checking and Money Market Accounts
Merchant Remote Capture
Commercial Lines of Credit
Treasury Services
Commercial Term Loans
Letters of Credit
Safe Deposit Boxes
App and Online Banking Services
Payroll
Business Credit Cards
Review and Approve Positive Pay Exceptions
And More
Contact us now for your business banking needs!
App and Online Business Banking Services
Check business account balances
View recent transactions, including check images
Transfer money between accounts
Deposit checks remotely using your smartphone's camera
Contact Us